Pendula Swing Demo
Pendula Swing plans, prices, keys & Discord!
---
Dear adventurers!
We are so happy every time you play our game, follow us and even donate to us! <3 We just want to say a big, huge THANK YOU!

We do spend a lot of time thinking how to make Pendula Swing more widely available, especially since we believe Steam is not exactly our target group. We are quite happy with our latest episodes and we really want to make it easy for anyone to try them out and give us feedback. But there's just three of us, and we still have two more episodes to go. This is why we prioritise Steam until we finish the entire Pendula Swing season. And this is also why we want to take some more time to talk to you about our episodes and plans.
Pendula Swing is an episodic game. Each episode unlocks a new area in the city that Brialynne explores, called Duberdon. The areas currently available are:
In the remaining two episodes, we are working hard to prepare the Academic District and the Industrial District. In the Academic District, besides the outdoors inspired by famous campuses, you will get to visit a sumptuous lecture hall, a well stocked library but also a shady orc school. We typically detail the areas of an episode when we are about to finish the previous one, so we are not yet ready to disclose what you will visit in the Industrial District - we just know that you'll see many moving gears and architecture :)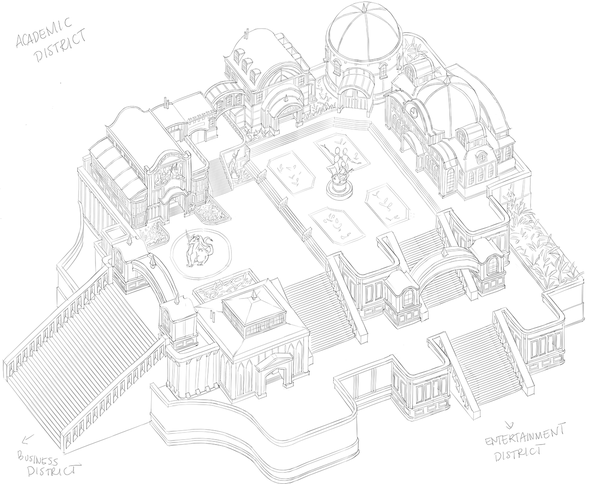 Each episode except the first one which is free, costs €4.50. We also have a Pendula Swing All Episodes Bundle, which allows getting an episode by default with a 30% discount - this is a Complete the Set type of bundle.

We update all episodes constantly on Steam with every patch and every new launch. Besides the much needed bug fixes, all updates include not only more content, characters and stories, but also new features and types of quests. And we constantly brainstorm and iterate on what more can we offer you, which is why we absolutely welcome your feedback on our Discord channel.
We also would love to send you an all access key to anyone who is a games journalist or influencer or overall great person who has been underrepresented in games and is nice to everyone on our Discord channel :). If you do feel underrepresented in games, please talk to us - we would love to design a character that represents you, and we have done so already for our fans.
Once again: THANK YOU!!!!