Pendula Swing: The Complete Journey
Pendula Swing: The Complete Journey got a new patch!
---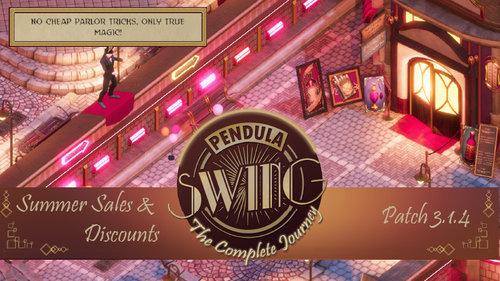 Greetings, adventurers!
We are so honored to be a part of the Bundle for Racial Justice and Equality which is closing fast to gather $3000000! And thank you for playing our game! Our community has always helped us polish Pendula Swing, and yesterday we pushed a new patch with a few bug fixes:
There have been issues with item getting lost when you receive one with a full inventory. This should be fixed now. Please let us know if it still happens!
The VIP guard at the Immigration Checkpoint used to have amnesia, and would not let you get into town a second time. We're happy to announce that she's now fully recovered, and should no longer insist on standing in your way.
The issue with you not being able to finish the game if you left the area during the final part has been addressed and should be fixed. Again, let us know if anything is still bothering you about it!
We've had issues with the dialogue with Jeff Wings - if you ask him about his brother, it could make you unable to ask him about the package that was delivered. While we respect his right to determine the topic of discussion, we've fixed some bugs with the dialogue and thereby hopefully made him a more cooperative goblin.
We've had a report of a player being unable to give a permit to the goblin protester. While we weren't able to fully see why it happened, we've streamlined the dialogue a bit to hopefully fix it.
We'd also like to let you know that we are a part of the MIDBOSS / SUMMER OF PRIDE 2020 - a month-long event of LGBTQIA+ streamers playing queer games, throughout the month of June. These fun "gaymers" will be playing some of the best and most unique games that showcase positive representation of queer characters and stories - like Pendula Swing, yay! To celebrate Summer of Pride 2020, there is an ongoing sale on queer-positive games, that will be available via the Chrono.gg storefront and on Steam from June 9-25. You can find Pendula Swing on both these storefronts with a discount of 40%.
We hope you enjoy our game!
Laura & Anna
Files
PendulaSwingTheCompleJourney.zip
1 GB
Jun 08, 2020
Get Pendula Swing: The Complete Journey